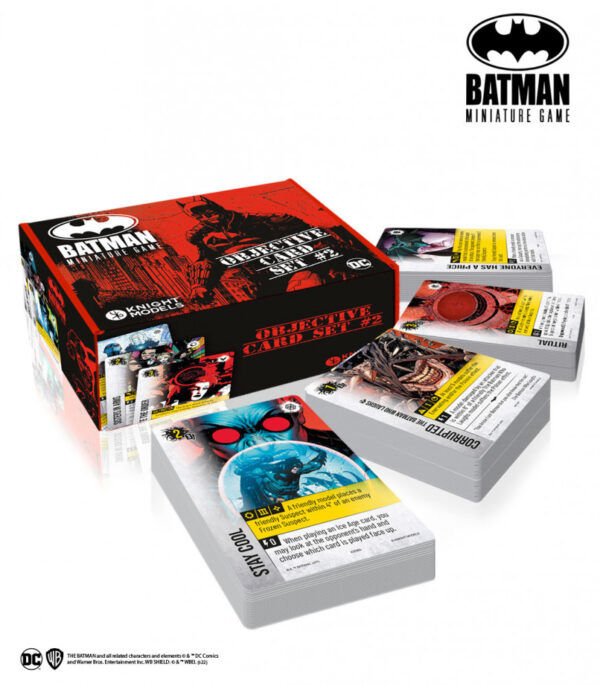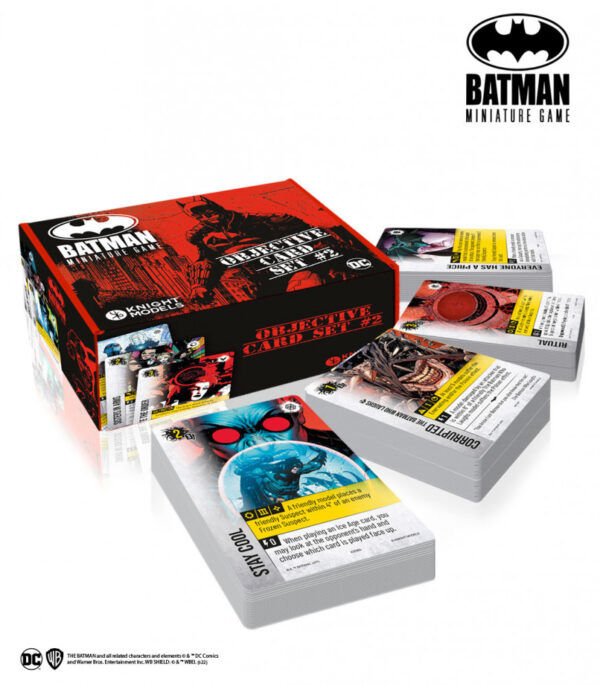 Batman Miniature Game: Objective Card Set 2
Get an alert when the product is in stock:
Description
Objective Card Set #2 has the objective cards for all crews of BMG (except the Batman's crew and Organized Crime objective cards.
Those cards are included in the Batman Miniature Game two-player starter box). This Objective box is a perfect complement to the BMG two-player starter box and is essential for players looking for a good strategy to complete in tournaments.
Inside you will find all the Objective Cards of the following crews:
– Soldiers of Fortune

3x Search & Destroy

2x Hardpoint

2x Ground War

3x Invasion

3x Domination

2x Free-For-All

2x Black Ops

2x Global Offensive

1x Cyber Attack

1x Osito [Bane]

1x Reinforce [Bird]

1x Deathmatch [Deathstroke (The Terminator)]

1x This Ends Tonight [Arkham Knight]

1x A City In Fear [Scarecrow]

– Riddler

2x The Riddle Of The Night

2x Riddle Me Softly

3x Riddle Me That

3x Riddle Me This

3x Riddle Of Nowhere

3x Riddles On The Storm

2x Easy Riddle

2x Your Activate The Riddle

2x Riddles Everywhere [Riddler]

1x Divertion Tactic [Quelle]

1x Query And Echo [Query]

1x Echo And Query [Echo]

1x Riddler Special Card

– Joker

3x It Doesn't Look Fresh

3x Let Them In On the Joke!

3x Bite the Dust!

3x Psychopaths

3x So Long: It's Been a Gas!

2x Seasoning the Mix

1x Let's Dance

1x Your'e Expendable

1x Le Them do Their Thing

1x Showtime! [Joker]

1x Joker-o-Meter [Harley Quinn]

– Cults

2x Sacrifice

3x Ritual

2x New Followers

2x Can Be Anyone

2x Full Devotion

3x Kobra – Awakening

3x Kobra – Sabotage

3x Kobra – The Great Plan

1x Kobra Viral Bomb [Jeffrey Franklin Burr]

1x Strict Control [Lady Eve]

1x Cults Special Card

– The Penguin

3x Smuggled Goods

3x Territory Fight

3x This Is Mine!

3x Not Buying? Don't Touch!

2x Profitable Negotiation

2x Secret Equipment Bases

2x Goods Raid

2x Everyone Has A Price

1x My House, My Rules [The Penguin]

1x Endless Greed [Emperor Penguin]

1x Street Transaction [Loose Lips]

1x Penguin Special Card

– League of Assassins

3x Eradicate The Order

3x Under Their Noses

3x Do Not Deviate From The Plan

3x From The Shadows

1x Blood For Blood

1x Lazarus Pit

2x We Cannot Be Defeated

1x The Fire Rises

3x Multiple Threats

1x Lord Of The Pits [Ra's Al Ghul]

1x Master's Duel [Lady Shiva]

1x Yours To Command [Ubu]

1x Daughter Of The Demon [Talia Al Ghul]

1x My Life For The League [The Heretic]

3x Mortal Wound [Cheshire]

– Birds of Prey

1x Regrowth [Poison Ivy]

1x Feed Me [Frank The Plant]

1x Katakiuchi [Katana]

1x Netmaster [Oracle]

3x In Position

3x Tough Girls

3x No Protection Needed

3x The Nest

3x Pretty Birds

1x Aerie Two

2x I Work Best Alone

2x Sisters In Arms

1x Emancipation [Harley Quinn]

1x Cover Your Ears [Black Canary]

1x Vendetta [Huntress]

1x Birds Of Prey Special Card

– The Court of Owls

3x The Court's Secure Bases

3x Talon's Claw

3x Terrible Accident

3x An Owl's Tale

2x The Shadow Claw

2x Gotham Is Ours

2x Owl's Night

2x The Owls Labyrinth

1x Plots Behind Plots [Lincoln March]

1x The Court's Edict [The Court]

1x The Mission [William Cobb]

1x Escape Plan [Calvin Rose]

1x The Court Of Owls Special Card

– Two-Face

3x Kill Them Twice

3x Two Make This Better

3x The Gamble

3x Heads Or Heads

2x The Balance Of Justice

2x Time Bomb

2x Closing Argument

2x Two Faces Of The Coin

1x Justice [Two-Face]

1x Not So Much Sugar [Sugar]

1x Spice It A Little [Spice]

1x Master Of Manipulation [Hush]

1x The Coin – Good Side

1x The Coin – Twisted Side

– Mr. Freeze

3x Stay Cool

3x Chill Out

3x Important Research

3x A Freeze is Coming

2x Frozen Assets

2x Send Them to the Cooler

2x Endless Winter

2x Kingdom of Ice

1x Searching for Nora [Mr. Freeze]

1x Cold as Ice [Killer Frost]

4x Ice Age special cards

1x Mr. Freeze Special Card

– Set of Generic Objective Cards

1x Valuable Commodities

1x Catch A Bullet

1x Call An Ambulance!

3x Dirty Job

1x They Must Know Pain

1x Confusion

1x I'm Feeling… Weird

3x Stick To The Plan

1x Overdrive

3x Flanking

3x Disturbance

3x Stake Your Claim

1x Die Hard

– Character Objective Cards

3x Corrupted [The Batman Who Laughs]

3x Apex Predator [The Batman Who Laughs]

1x A Cat Has Its Needs [Catwoman]

1x Moth Signal [Killer Moth]

1x Overwhelming Charisma [Kite-Man]

1x Time Master [Clock King]

1x Cold As Death [Gentleman Ghost]

1x Calendar Crimes [Calendar Man]

1x Sauce And Pickles [Condiment King]

1x Master Of Manipulation [Hush]

1x One Million Dollar Shot [Deadshot]

1x Back to Arkham [Bruce Wayne]

1x One Good Cop [James Gordon]

1x I'm The Surgeon [Batman (Frank Miller)]

1x The Don [Carmine Falcone]

1x The True Boss [The Ventriloquist]

3x Tonight, We are The Law [TDK Keyword]

1x Uncontrolled Brutality [Maroni]

1x Wrong Place, Kid [Harvey Bullock]

2x Pain and Money [Black Mask]